It's a sellers' market right now. I know, this information does not come as a galloping shock to anyone. However, it's important to understand exactly what that means as you start the process of looking for a home.
As the graphic below shows, sellers are in the driver's seat right now and that shows no sign of abating anytime soon. Scroll down for some tips to keep in mind as you navigate the market!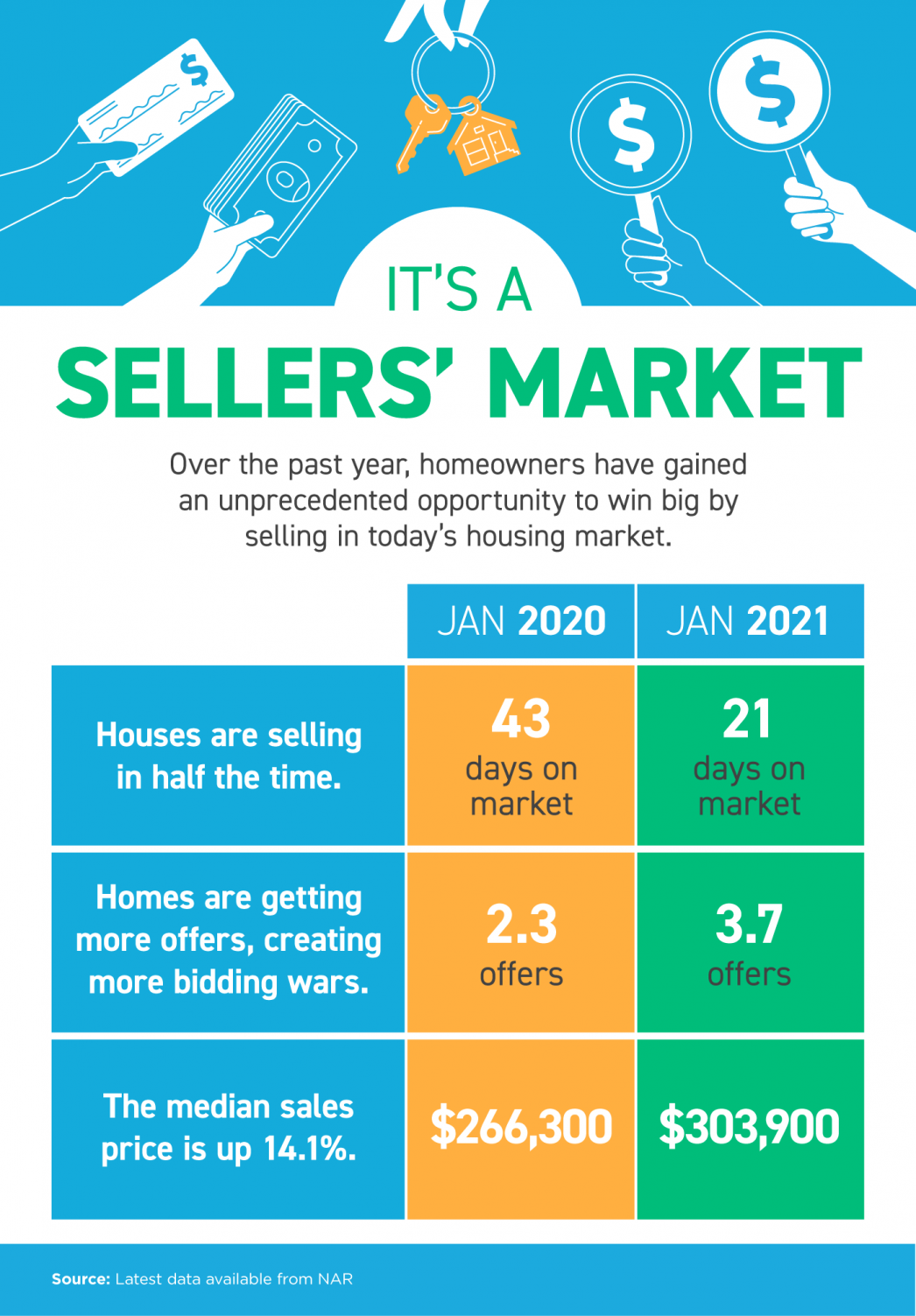 Tip #1 – Reality TV isn't real
For most buyers, especially first-time homebuyers, what you see on reality TV shows about buying a house has absolutely no basis in reality – and that's especially true in 2021. Where the Orlando market is concerned, homes are routinely seeing multiple offers just days after they hit the market. Many listing agents are telling people to submit their best and final offers upfront by a certain date and then they will choose which offer they want. In many cases, there is no back and forth negotiation – the seller simply selects the offer they like most and that's that.
That's not to say that there isn't room for negotiation, there is always room – but in this market, there just isn't much of it. Much of that negotiation is happening after you go under contract (inspection, appraisal, etc). That's not to say that offers that are less than the asking price never get accepted, it's just increasingly rare. This is where your Realtor comes in handy. They know the market, they've seen hundreds or thousands of homes, and have a good idea of how a particular house stacks up against the competition. They know the local area, they know the market and they know how to navigate the water. This leads to tip #2
Tip #2 – Listen to your Realtor
Don't ever confuse your Google search with your Realtor's knowledge, education, and background. A GOOD Realtor is there to represent your best interests and get you the best deal. I can't count the number of stories I've heard about clients that have disregarded sound advice from their agent only to lose their dream house. Good Realtors can work miracles sometimes, but they can't change the dynamics of the market.
Tip #3 – Make a fair offer
Before searching for a home, think long and hard about what you're WILLING to pay, and not just what you WANT to pay. In the current market, it is best to make your best and final offer upfront, because in many cases there is no negotiation. Honestly, I think some listing agents are doing their clients a grave disservice by not giving people a chance to counter-offer on a home, but the reality is that's what's happening on a regular basis.
If you have questions or would like to speak with one of our Realtors about purchasing a home in the Central Florida area, you can fill out our CONTACT FORM and someone will be in touch soon!